It Should Be Prescribed By Your Doctor…
…I mean it. Many of you know that I have drawn scenes of everyday life for over a decade. It's been a talisman against tedium, a barrier to boredom and a diversion from dwelling on the painful thoughts that are part of everyone's lives.
Because I have discovered first-hand what a panacea it can be, it's a subject I love to share and I have taught the how-to of urban sketching for many years, leaving a little trail of sketch addicts in my wake. That's a source of tremendous pride for me.
Urban Sketching in Watercolour, 12th-16th June
Every year I offer a beginner's course in sketching, which I conduct live online. Of course this means trying to pick a time that's convenient for everyone, which isn't possible. No matter what time you choose, someone is asleep and someone is at work. So this year I am picking a time that works for me, and I hope works for you too! It will be evening time in Ireland, the UK and Europe. That's morning and afternoon in the USA, but sad to say it will be the middle of the night for those of you in Asia. If you're in Australia and like a very early start, it might work for you too. But the lessons are always recorded, so one would hope there's a solution for those who sleep or work at the time I teach.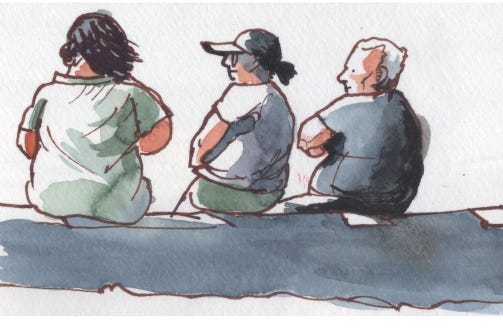 This year I am doing two things differently from last year's beginner's course in sketching.
It will be an urban sketching course, not a general sketching course.
It will recommend the use of top-quality paints. The ones I will be using are the fantastic paints produced by Roman Szmal, which I sell – see link a bit further down for a discount. The other top-quality paints to use are those by Schmincke, which I don't sell but which are available from Universal Art in Dublin (you can buy them here).While the Schmincke colours closest to the ones I will use in class are (unsurprisingly) the set I have designed and curated, any Schmincke or Roman Szmal set of twelve colours will be adequate, apart from getting a believable skin colour, which is one of the main advantages to the sets I sell! But for the exact colours I will be using, get them from me (at a great price, I might add). You still have time t get your paints before the course starts!
And if you have a student set of watercolours, it's time to splash out on the good stuff if you are going to take my course.
What will the course entail?
Over five days from 12th-16th June, at 7.00pm GMT+1 each day, I will teach five 90-minute classes on the basics of this beautiful medium that can be practiced anywhere.
The best portable materials to use and how to use them – supply list sent on booking
How to sketch with subtlety in public
Mixing colours
How much water to use
Fixing mistakes
Keeping everything clean and bright
Making things look realistic
Making a boring scene fun to sketch
Keeping things cool and contemporary
Portraying hot bright colours in the one scene – tastefully!
When you purchase this course, you will be sent a link each day for the following day's class. Each class lasts 90 minutes. If you cannot attend the live class, you can catch up at your leisure as they will be recorded, and available for at least three months after the week is over. I have only just removed one of my beginner's courses from last summer – that will give you an idea of how long I usually keep the files.
I have been on both sides of the Zoom machine many times. As a student, I love that I can have a coffee (or a beer if it's evening) as I enjoy the session, with my camera on of off. I even love when my mic is off as I never have to worry about sounds in my environment interrupting class. The same goes for my students – do as you please in my class, in the comfort of your own home.
Course Aims and Cost
The course will be 100% technical, and 100% practical. It will give you all the tools you will need to get started, with a few tips for making things look cool and real. It's only five days but I hope it will be the start of a beautiful hobby, pastime or even more for you. It's been both career and passion for me.
The course costs €50 and there's a discount on the paints I sell when you buy them at the same time. There's enough space for everyone but I am amazed at how quickly spaces are filling up so grab your spot now – and do it live with me and the class, later the same day or over the months ahead, as you prefer.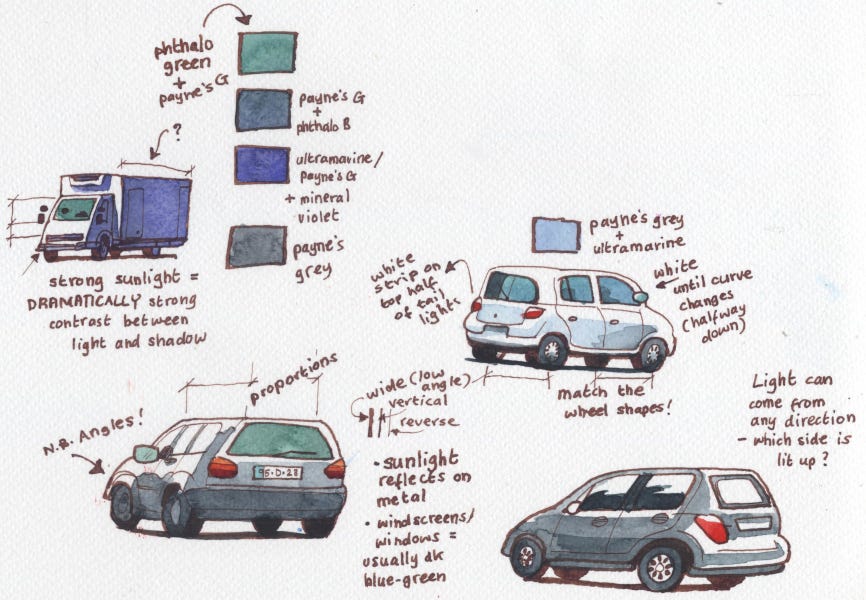 You will discover the most beautiful products in the best brands that I have discovered over the years, and how to use them. Sometimes I have to resort to drawing my tools when I am out sketching – but that can be fun too.
Book your place here.
While I am your teacher, my team consists of me, my utterly brilliant webmaster Ronan and his trusty assistant Charlie, and between us there is no technical issue we can't resolve – me with your sketching challenges and the guys with booking and access technicalities.
Of course my little dog Reuben keeps me calm so I guess he counts too.
I look forward to getting to know you, and bringing this world of creative fun – and calm – to your life.
Róisín