The sun has shone every day for the last few weeks here in Galway. We are beyond smug that we have the nicest weather in the country. That's because this is almost never the case. It's not a pretty picture here in the West in winter, and to look at us you'd never think everyone else in the country feels sorry for us eight months of the year.
Roads are bursting with wild flowers – at least, I think they are, because it's been too hot for my daily walk, so I haven't checked for a while. Instead, I have been doing a lot of sitting outside my studio doing whatever work is pressing, but only if it's pressing. And I have been doing lots of lying in the meadow we have "cultivated", ie. the lawn we have neglected, surrounded by orchids, purple, yellow and white flowers of many types. The grasses are in flower and their heads wave gently when there's a breeze, which isn't often. Reuben the terrier must spring like a tiny fluffy white deer to retrieve his ball when it's thrown, as he hasn't a hope of finding it otherwise over the long grass. We have mown a strip around the edge, between the meadow bit and the mini-forest that my husband Marcel planted twenty years ago, and which is too dense to enter (but well worth the effort when you try).
When my kids were small, I would make tramps over the hills of the Burren a bit more interesting by offering them money to find orchids. The rate was €5 total for five different species – in an all or nothing deal – and €10 for a sighting of a bee orchid. They often scooped the fiver, but never the tenner. Now our lawn is covered in bee orchids. There are so many it has become a problem – you're not allowed to cut them – and we cannot mow most of the lawn. So Reuben's ball must be thrown in the right direction or he will trample them in his ball-fever. Nonetheless, he has broken one, which I am pressing between the pages of a book. I will happily see Reuben go to prison rather than me if it comes to it.
Come Hell Or Low Water
The seashore isn't far away, perhaps five or ten minutes by car. There are two places to swim: two little harbours, both of which have a jetty and one of which has a beach, albeit made of jagged rocks and stones. The more popular of the two is called Aran Quay, and at high water, or an hour either side of high tide, you can leap in off the pier, or tentatively descend the steps into the water. In warm weather, that quay is overrun with swimmers, which is lovely, and teenagers who have somehow rigged speakers to their bicycles, which is not. On those days we make our way to the stony beach of the next inlet along. It is wonderful, if an acquired taste: wild and natural and a place where time stands still when you're floating about in the bay, but not as obviously dreamy at first glance. My family and I start our swimming season in the closing days of May. I do not enjoy the shock and discomfort of cold water, but by the beginning of June I have jettisoned my wetsuit. I am susceptible to the cold, and there are a couple of episodes of screaming upon hitting the water, but by the second week in June the screaming has stopped and it's just heaven to surrender to the elements. You bob away in the bay, miles from a busy road, your head level with a seeming-infinite plane of choppy, light grey water; in the distance are the low, soft mauve hills of the Burren, and close to you is the stone quay and the narrow country road leading to it. Apart from that it's just a vast dome of sky, with clouds that are basically showing off: they are putting on a show just for us.
My son Paddy is 21 and has decided he will swim every day for the month of June. He cannot miss a day, as he has said he will do it, so do it he will. The tide hasn't got the memo, though, so that by the time Paddy gets home from work – he's on work placement in a Galway engineering company – the tide has long since gone out, leaving a stone quay with a sheer drop ending in an array of puddles.
One evening, sometime after 10pm, my husband Marcel and I are cosy on the sofa watching TV, when we look up to see Paddy standing at the bottom of the stairs wearing his striped blue hooded swimming towel, ready to head to the shore.
"Either of you guys want to come for a swim?" he says.
"I'll come," says Marcel, "I won't swim, but I'd better be there in case you fall down the steps in the dark."
They set off and are home half an hour later. By now it's almost fully dark.
"Paddy waded in and just stood there," Marcel tells me. "I told him, "That's not going for a swim, that's going for a stand!" "
The next day the tide is even lower by the time Paddy goes to the quay, and he is accompanied by his sister Liv, 18. Afterwards, she shows us a video she's taken. In it, Paddy is all alone, surrounded by low rocks, almost silhouetted in the mirror-calm water, his feet kicking in a desultory fashion, the sunset golden and orange behind him. Then he turns about in the water…and as he stands up we can see that the water reaches no higher than his mid-calves, and the sound of Liv's chortling over the video is all you can hear.
"He had mud up to his calves even to get out that far," says Liv between snorts of laughter.
But the time of high tide changes daily and little by little Paddy's schedule and that of the rest of the household synchronises, and we swim together in deep water off the quay. One evening Paddy and I head down to the quay in a thunderstorm, and arrive to see a tide reaching all the way up to the top of the quay. The stormy sky is being thoroughly theatrical this time, straight out of a Fragonard painting. The water is three metres deep, and clumps of floating seaweed wrap their tendrils around our arms upon entry into the water. Paddy and I do tandem dives off the quay for no particular reason. As I make my way to the surface I keep my eyes open, and the water is translucent and green. We drive home in damp clothes.
Mice Are Great Swimmers
Another day, we are swimming off the stony beach at the next little cove, called Mulroog, on a spring tide (it's very high). That is, Liv and I are swimming from the beach, and Marcel and Paddy have gone to the end of the stone jetty and jumped in from there, swimming around the end of it towards the shore, to meet us.
"I've just seen a mouse swimming past!" shouts Paddy. We all marvel at the wonder of this. A mouse! Swimming! How adorable!
No…a rat. How unadorable. The tide is so high that perhaps the rats that live at the end of the jetty have to tread water for half an hour or so until the water drops and the danger of drowning passes. Mouse or rat, Paddy refuses to swim around the point of the jetty to where he got in, and swims back to the stony beach instead.
Here's a video I made about our favourite swimming place since I wrote the above – so it's hot (wet!) off the press.
They're Irish, Thank God
Each day continues to dawn warm and sunny. Galwegians are still walking around with a smug air, wearing summer dresses or shorts and sandals. One Saturday morning Marcel and I go for coffee in town. The place we like is French and has a bakery where you can watch the baker doing her stuff through a brick-arched window at the back of the café, putting brioche and croissants and pains au raisin onto metal racks. That's as far as the romantic French ambience goes, though: the café and bakery is in an industrial estate, where no muincipal planner dares to tread, with cars everywhere and the buildings glorified bunkers with fascias. But like all places of free enterprise, it feels lively. One of the shops sells fruit and veg. The greengrocer has put giant wedges of watermelon on a table outside, and in the warm sun it is enticing. Marcel hauls up a giant wedge to carry it inside. There are punnets of big red strawberries lining the aisle we have to walk through to get to the till.
"These strawberries are gorgeous," says the greengrocer. "The best I've tasted for years. And they're Irish, thank God!"
We buy two punnets. I know exactly what he means by "they're Irish, thank God" but when I quiz my family, they all get it wrong. They think he means they're not grown elsewhere, or picked by foreigners. But five decades of disappointment at our weather has given me an insight they may not have, due to youth or being foreign: he simply meant that if the strawberries are Irish in June, it means we're having a wonderful summer of warm, dry weather. Thank God. And the strawberries are perfect.
Bee In The Moment
One morning, I lie on the cushion of the sun lounger, laid out on the mown bit of the lawn. An enormous bumble bee is on the grass just beside me. It is black velvet with a burnt-orange velvet posterior. I decide to be still and zen and watch it for a bit. I look at its huge eyes and sweet little feelers., and its knobbly legs. Rather than fly from flower to flower, it decides to walk, and it is very cute to see it make its somewhat clumsy way across the grass, encounter each off-white or purple clover, climb to the flower, check for pollen and gather it if it's there, then to climb down and lurch off through the stubbly grass to the next one.
Reuben the terrier senses it's a zen moment and comes over for pats, and hugs are exchanged between woman and (tiny, fluffy) beast. The bumble bee ambles over to us, Reuben spots it and in a split second is on the other side of the lawn – and just like that, the moment is over. Reuben must have been stung by a bee at some point. Then again, he is terrified of living creatures smaller than him, so he may not have been.
Regulating My Circadian Rhythms
I am out on Aran Quay, and it's 6.45am. I am here to harvest a scene in ink and watercolour for my students: it's the last day of a week-long course in urban sketching in watercolour for those brand new to the activity, and I want to tie everything we have learned this week in one scene (for those who missed it, it's happenening again at the end of August). For once my sketching ambitions come off as planned: I need a hugh tide and calm water to give me good clear reflections, and I have both. I sit on my little stool and scribble away, all on my own but for Reuben the terrier. He is free to do whatever he likes, and explores happily, but never strays too far. At 7.00am two bicycles approach. It is a neighbour and her son and they are here for an early dip. The neighbour and her husband are English.
"You're here early!" says my neighbour in her beautiful RP accent. "Are you trying to regulate your circadian rhythms?"
How lovely the sentence is, how mellifluous her tones. I tell her I am a morning person but don't take advantage of it enough by actually getting up and using the morning. I explain that I am only there because the tide has forced me to be. My sketch is finished by 8.00am, and I still have a lovely long June day ahead of me.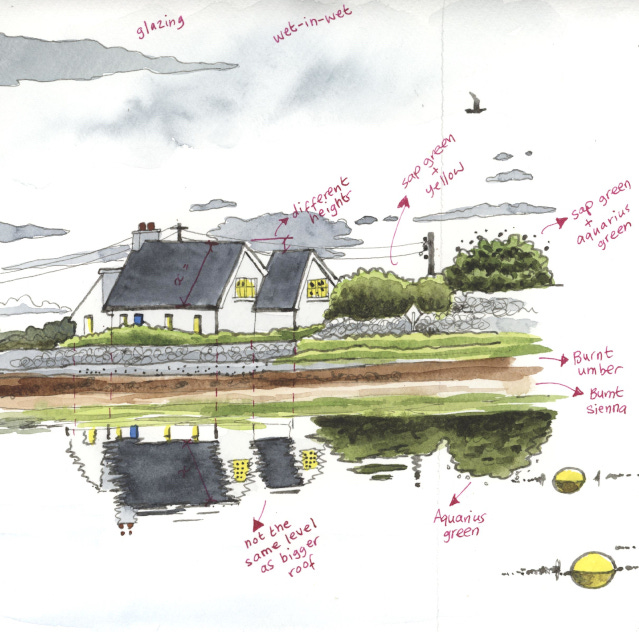 The sun rises at 4.15am and sets at 11.00pm at this time of year.
Everything is just beautiful, and I wanted to share it with you.