This article first appeared on Substack. It's free for everyone there, and here: however, if you like what I write and draw, then please consider becoming a paid subscriber on Substack. Because I have been honoured with some paid subscribers, that is where I will share my soul's deepest thoughts, for their enjoyment only. Warning: I draw a lot of very foolish cartoons. I did an extremely silly one today which will be on Substack for my paying subscribers tomorrow. Either way, I appreciate your taking the time to read my musings and look at my little pictures. And I will still be here too…this is, after all, Chez Róisín!
Sunday 31st July
Mahón Airport, Menorca, 6.30pm. So far things have gone really well: husband Marcel and I haven't fought all the way from Dublin Airport to here, which might be a first. Normally, we're scowling at each other by the departure gate: he blames my shopping addiction and the perfume/cosmetics shop in the airport, and I blame his pre-flight nerves. I hate all perfumes apart from one and as for make-up, I've given up, so a shopping addiction would be pointless. We're even holding hands for a brief moment – definitely an airport first – but it can't last. We make our way to the hire car outlet, but soon discover our plan to hire a car has gone up in smoke due to someone's expired driver's license. It's 35 degrees and we've all been up since 5.00am, which is no time for recriminations. An hour on the phone to a nice young lady, ostensibly in HQ in Barcelona but actually in a call centre far, far away sorts things out and a new car is booked for Thursday onwards. The catch? It'll be me at the wheel.
Once I hit my twenties, I didn't really do resort holidays. The reason is that my friends and family didn't want to, and I never insisted. Arriving at our holiday complex is, therefore, a wonderful surprise. The apartment is musty but roomy enough and the mustiness quickly disperses. It's time for dinner and we head to the restaurant in the complex, which is all outdoors and overlooks the pool and the bay. Over a low wall the pool is dark and still, ten feet below our table, and we can just make out the beach and the sea a few steps further away. Rocks surrounding the tiny bay are silhouetted in the moonlight, the edges of their reflections sparkling. At one end of the restaurant, country music karaoke is being performed by a man in a black shirt and cowboy hat – on paper guaranteed to make me run away – but soon we're tucking into grilled sea bass, mussels and sangria, and humming along to Johnny Cash and The Eagles. Marcel soon asks me to stop.
It's been a rocky ride to get all three kids to adulthood. Yet here we are, all five of us. Two of the five have left their hearts in Ireland with two fine young men. But all three of our children are with us. Marcel and I know this is a special gift.
Regular readers of this blog will already know my kids, but in case you don't: Honor is 22, Paddy is nearly 21 and Liv has just turned 18.
Monday 1st August
In the morning I am up early, pack a few things to go to the beach and then realise I have forgotten a couple of things, but have locked myself out of the apartment. Everyone is asleep and I don't want to wake them. I have very little with me other than my sketching stuff, so I make the most of the extra time and draw the balcony. I soon realise the window of our bedroom is open and close to the ground, so I can wake Marcel or hop in through the window myself. He has banjaxed his back mixing concrete for the patio outside my studio and I don't want to make him move if I can help it, so I just keep on sketching. Eventually there's nothing left to add to the sketch and I deem it a civilised hour to be woken up, holidays or not.
The day is spent doing mermaid impressions, duck-diving into the crystal waters to explore colourful, striped and spotted fish at close quarters. I am extremely buoyant and am unable to stay down – thanks, boobs! – but on one descent I see a man grip a submerged rock to stay down. It works a treat. The shallows are warm as a bath, but a light blanket of seawater is still better than fierce unfiltered sun on skin, and I sit in the shallows and read my book. It's Stephen King's On Writing and although I read it many years ago, it means much more to me now that I have three books, miles of blog and countless social media posts behind me. There's loads to be learnt, even though I have never read a word of Mr King's books, nor watched any of his movies unless under duress (I don't like being scared, I'm weird like that). His spirit soars when he writes, he says, and I feel the same. The advice in the book comes down to this: write because you love it, make sure your grammar is correct, and omit unnecessary words.
In the evening we search for a restaurant, and after a lot of climbing some very steep hills in the heat we choose a restaurant at the bottom of a hill, near our complex. It is on the beach across the bay from our dear little cove and is called La Paella. We order paella. "Draw me," says Liv. She adores being sketched by her mum: one Christmas, at her request, I made an entire calendar of sketches of her. I had enough material for three calendars, but she has complained lately that I have not sketched her as often as I used to. She is right: these days, most of my creative efforts go into preparing class. Now she is next to me, and I am not at work, and she is making the most of it. Her proximity means I will have to include detail (according to my style, which is very literal). I can't make the sketch work, neither using pen first, nor watercolour first. After the umpteenth washed-away traces of ink (quickly, before it dries) and paint (easier), I am ready to give up, but Liv tells me to keep trying. I remember I have a gold gel pen with me. It provides just the right scribbliness whilst not being too dark, and gives me the skeleton I need upon which to build. The white gel pen I have with me helps correct the glaring errors. The result captures a hint of her porcelain, youthful perfection – not quite her, but acceptable. Not offensive, which I'll take, when I can't do better.
The paella arrives and it is everything and more than we hoped for. I take pictures of it to send to my hispanomaniac, gastronomically-obsessed brother, the one who was my history consultant for my third book, Dublin In Sketches And Stories. Later – days later – I break my cardinal rule to always sketch from life, and draw and paint the paella from these photos. I am as culinarily obsessed as my brother (if lazier) and there is no way I will either draw or paint hot food before eating. I respect the food, and respect the cook who has taken the trouble to serve it to you hot. So this is where I have decided to make an exception to my self-imposed rule. My daughters' drinks in the sketch are sketched in situ ("must you take a sip? Put the straw back the way it was please!") but I intend to make a whole new collection of food sketches – yes, from photos.
I want to sketch the view from the terrace of the restaurant but darkness falls too quickly…I have spent too long trying to get Liv right. So that's from the internet somewhere. Cardinal rule broken – twice in the same sketch.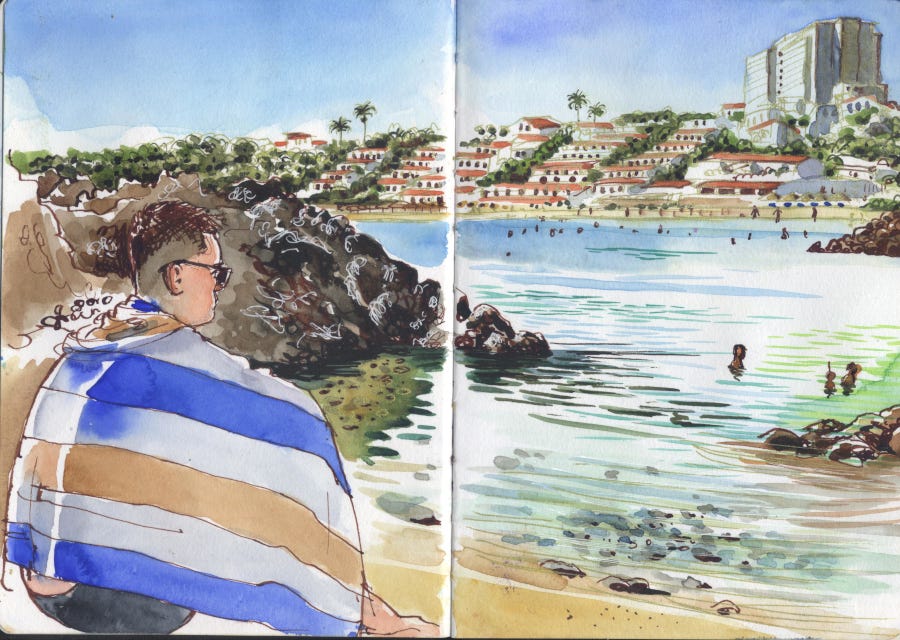 Tuesday 2nd August
Back to the seashore. Paddy and I have decided to swim early, when the beach is empty and perfect. After we snorkel about for a while, he wraps himself in the swimming towel the resort provides and I see a great subject. I like how the watercolour bleeds and I resist the urge to control it. (Idea: draw eveything really perfectly and let the paint run like a stream bursting its banks. That would be really cool.) I try to capture the strong morning sunlight coming from the left. Paddy is an obliging model but he is eager to get out of the heat. When he has gone, I do my best with the reflections and transparency of the water lapping the sand, but it's not right. Still, while it's not atrocious, the detail on the far shore is beyond me, and anyway it's too hot to continue. I return the next morning at the same time and sketch it in with my trusty gold pen. It worked for my sketch of Liv and it works for this. Soft, scribbly, allowing me to add detail when my confident zone arrives. Can you make out a low terraced building on the right hand side, on the beach, with an orange roof and a few bays? That's La Paella of our second evening's meal.
Later, I try the swimming pool. I take a sunbed next to Honor and I think she will make a beautiful subject. Honor is naturally glamorous. I don't know how that works, she didn't get it from me. I can't bear the feel of fake tan (I tried it once or twice in my youth), want to rip off fake nails the second they're on and won't put myself through discomfort for the sake of beauty.
I used to be pleased that my husband was a man of refined taste who prefers natural beauty until one day after the Christmas craft market in Kinvara, the village next to me, known for its high hippie population. I was commenting that all the women there wore hand-knit jumpers, zero make up, had naturally greying hair and thick woollen socks in Birkenstock sandals. "Lovely," said my husband. I'm perturbed.
It's a treat to sketch a beauty and when it's your own daughter you can tell her to hang on a bit longer, keep that hand still for a sec and so on. She and I are both pleased with the results (although now she's talking about getting a chin lift). I let the colour run again on the bikini bottom – can you see how the colour changes from blue to violet? I decide that a bit of context is in order, but I don't want to detract from the simplicity of Honor's profile. The solution is to make sure I don't use any anomalous colours, and to keep everything away from her face. I don't think I made a great job of the wooden post next to me, but at least it provides a depth of field. I spend ages on the metal legs of the sunbeds but at least they are very dark in the strong sunlight, and cast interesting shadows (most of which are out of view, sadly). The finishing touch is the ground, with the joins of the floor tiles gracefully changing direction according to the angle at which I can see them.
Wednesday 3rd August
More swimming, more snorkelling, more mermaid impressions, more reading in the sea. It's heaven and I am so glad that we have been resort-bound until now without pressure to go anywhere. In the late afternoon Marcel wanders down to the beach and I draw him, starting with his head. The hat throws shade across his face and while I think it has worked, I will need to add the body in order for the whole to make sense. Then we realise that Liv has been on her own in the sea for at least thirty minutes. She is a keen and competent sailor: she has won many competitions in her 420 dinghy. (Once, while trapezing during a race – you know, when they're horizontal sticking out over the side – she saw a shark directly beneath her, which she was able to draw perfectly afterwards, and which we identified as a young porbeagle. At the time she called to her helm "Isabella! Shark!" to which Isabella replied, "Concentrate on your race, Olivia!") But Liv is also extremely nervous of anything in the sea – would you blame her? – and like me, is desperately inclined to the heebie-jeebies when she can't see everything. Unlike me, she's not at all buoyant, so Marcel gets up to go and find her, and that, I fear, is the end of my sketch. (I remind myself that a safe daughter is more important than a sketch.) After a while he sees her: she's in a dream world of her own, exploring the underwater world and the creatures who inhabit it. He sends me the all-ok signal and returns, ready to head back to the apartment. I beg him to stay.
"What's more important," I ask, "you being a bit uncomfortable for a few minutes while I make a lovely drawing of you for the collection – you're the only one in the family I'm missing – or you getting back right to the gaff now? I only have a head, please let me get the rest in!" (Excuse the wheedling tone, we don't have a "jump!" "how high?" relationship. There are times when that would be great.) He reluctantly agrees to let me finish. His back is really hurting – I think you can see that in the sketch – so I don't want to keep him too long. I fly along. Every minute is punctuated with requests for me to hurry up. I say the usual things – nearly finished, just have the legs to do, in a sec, just painting now, that's the feet done, colour's running but never mind, okay, okay, one sec, the shoes, okay you're done. Off he sets, slowly and carefully (poor thing). In the end I am delighted with the colour runs – again.
I return a couple of days later to get the setting in. That's the only day I get a bit overcooked. It's just so hot. For the far shore, I use gold gel pen once again…You can see Liv in her new coral bikini walking along the shore. Where Honor is tiny and glamorous, Liv is tall and athletic. Again, she didn't get it from me.
Thursday 4th August
I record an episode of my Sketch Therapist podcast from a white Adirondack chair in a tiny garden in the resort.
Later, Marcel and I head back to Mahón to collect the hire car. I hate driving on the other side of the road. It's made far worse by having a man beside me who's trying to help, but is finding it impossible thanks to my low IQ. For more marital unpleasantness it's right there in my podcast. Episode 33. It's called Hire Car = Higher Temper.
Friday 5th August
I am up early – by 7.30am I am out sketching the quiet cove. By the time I want to include the two palm trees, I am being roasted alive, and I must leave it for later. But I go back in between holiday activities, which is a mistake. I am distracted and I mess up the composition. Extremely frustrating. I realise I will have to go back and fix it or I will never be happy again.
Saturday 6th August
I am back in the same spot, at the same time, the following morning. I carefully tear out a page, a double page, from the back of my sketchbook. I have neither blade nor scissors. I fold the double page this way and that, this way and that, to weaken the paper and get a nice neat rip. I try not to make the paper greasy from over-handling. Sun cream when you are sketching is out of the question, as you will quickly render your page unusable, so I cover exposed parts of my body with a swiming towel. Next time: bring a white sarong thing.
In the end I am happy enough, if a little hot. I sigh the happy sigh that always follows a sketch that's gone well, and back to the apartment I stomp, to fetch book, snorkel and face mask.
Sunday 7th August
Mahón town: one daughter overheating, another disgruntled (shops with gifts for boyfriends don't open on Sundays), three cold beers for those still in a good mood.
Mahón airport: one car returned with the steering wheel in the same funny place but without any dents, air conditioning, gift shops, a flight boarded on time. Three adult kids who are our wonderful, beautiful friends.